Spread the Word
Celebrate the planning behind the places we love most.
---
Leveraging Planning Month
Educate, Advocate, celebrate
Planning Month is planners' annual opportunity to educate elected officials, media, and the public about the value of planning to communities.
Get ready for October by watching our short Planning Month primer.
Logo
Use this on your website and in newsletters.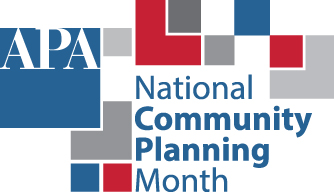 National Community Planning Month logo (vector file)
Great Places in America
There are 275 with at least one in every state. Plan a walking tour or set up a planning information booth at the next community event scheduled in your Great Neighborhood, Great Street or Great Public Space.
Story Map
Use the ESRI map in your in-district meetings with elected officials to highlight state and nationwide success stories.
Great Places in America Story Map
Ads
Place these on your website or electronic newsletters and hyperlink them to planning.org/ncpm
Box Ad
Banner Ad
Advocacy
Invite your representatives to your community event. Sign up to have APA staff assist you in sending out invitations to your congressional officials.
Media Documents
Engage target local media with the help of these documents.
For Members Only
Communications Guide
Get tips and techniques for creating, targeting, and reaching the media and target audiences.
Pre-written copy for newsletters and websites
Use this copy in September and October to spread the word.
Social Media
Official Hashtags
#PlanningMonth — Use for all of your Planning Month related posts and tweets
#APAGreatPlaces — Use when referencing an APA Great Place in America
Change your Twitter or Facebook cover photo during October.
Twitter Cover Photo
Facebook Cover Photo
Instagram Stream
Sample Proclamation
Engage elected officials in the celebration by asking them to proclaim October as Community Planning Month.
Video
Embed these videos on your website, in social posts, or in your newsletter in the weeks leading up to or during Planning Month.
Community: What's Best Here?
Great Places in America