Thank You for Your 2017 Suggestions!
Thank you to all of the planners and citizen advocates who suggested their favorite neighborhood, street, or public space for a 2017 Great Place in America designation.
This year's designees will be announced during National Community Planning Month in October.
Explore the 2016 Great Places Designees
Last year, APA honored 15 places — in communities large and small — that celebrated stories of exemplary planning that have resulted in stronger, healthier, and more just communities.
Get to know the places, people, and planning stories behind each designee:
2016 Great Neighborhoods
Santa Ana, California
Atlanta, Georgia
Louisville, Kentucky
Albuquerque, New Mexico
Warren, Rhode Island
2016 Great Streets
Coeur d'Alene, Idaho
Ketchum, Idaho
Omaha, Nebraska
Bronx, New York
Davidson, North Carolina
2016 Great Public Spaces
Fairbanks, Alaska
Valparaiso, Indiana
Cincinnati, Ohio
Tulsa, Oklahoma
Philadelphia, Pennsylvania
The Gold Standard in America's Neighborhoods, Streets, and Public Spaces
Each year, APA recognizes outstanding people, planning work, and places — representing the best in planning and community impact. During the National Community Planning Month each October, we celebrate how planning improves lives and communities of lasting value.
What Makes a Place Great?
APA has defined characterics and guidelines for great neighborhoods, public spaces, and streets. APA also considers geography, population, demographics, and setting (rural, suburban, urban).
Explore Great Places Close Up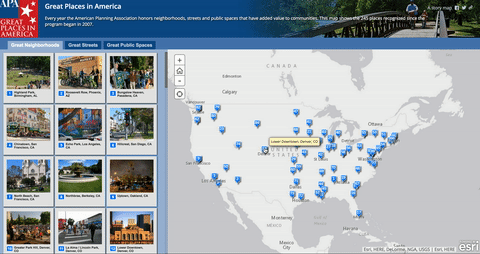 Previous Designees
Order Your Great Places in America Bronze Plaque
Plaques to mark these recognized places may be ordered by local governments, businesses, donors, or organizations.
Celebrate Your Great Place in Style
APA offers a wide selection of clothing and office products featuring Great Places in America.