Get jazzed about your New Orleans travel plans. Here is all the information you need to reserve lodging at an APA conference hotel and get to the conference center.
Conference Hotels
APA has arranged discounts at ten hotels in New Orleans. Discounted rates are limited and available on a first-come, first-served basis, so book your room early!
Hotel
Single/Double
Headquarters Hotel
Hilton New Orleans Riverside – SOLD OUT
2 Poydras Street
1-504-561-0500
$245/$255
Sheraton New Orleans Hotel – SOLD OUT
500 Canal Street
1-504-525-2500
$246/$296
The Hotel Monteleone – SOLD OUT
214 Royal Street
1-504-523-3341
$239
New Orleans Downtown Marriott at the Convention Center – SOLD OUT
859 Convention Center Boulevard
1-504-613-2888
$249
Courtyard Iberville – SOLD OUT
910 Iberville Street
1-504-523-2400
$239
Courtyard New Orleans Downtown/Convention Center – SOLD OUT
300 Julia Street
1-504-598-9898
$229
SpringHill Suites New Orleans Downtown – SOLD OUT
301 St. Joseph Street
1-504-522-3100
$229
Loews New Orleans Hotel – SOLD OUT
300 Poydras Street
1-504-595-3300
$235
Cambria Hotel & Suites New Orleans – SOLD OUT
632 Tchoupitoulas Street
1-504-524-7700
$219
Astor Crowne Plaza New Orleans – SOLD OUT
739 Canal Street (at Bourbon Street)
1-877-408-9661
$209
Le Méridien New Orleans – SOLD OUT
333 Poydras Street
1-504-525-9444
$245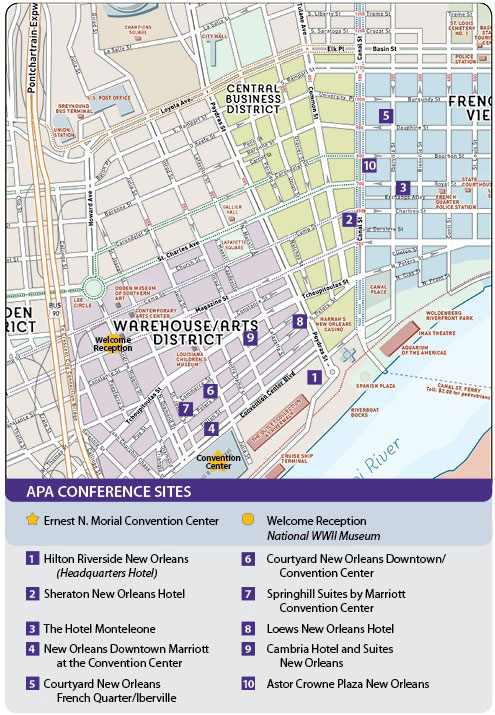 Rates shown do not include state and local taxes, currently 14.25 percent plus individual nightly fees or occupancy tax that varies for each hotel. All reservations require a credit-card guarantee. Make any changes or cancel directly with your hotel. Hotel cancellation policies vary.
---
Getting to the Ernest N. Morial Convention Center
The Ernest N. Morial Convention Center website has directions and parking information for the center, which is located at 900 Convention Center Boulevard.
By Plane
New Orleans is served by Louis Armstrong New Orleans International Airport. There are several options available for getting from the airport to downtown New Orleans including taxis, shuttles, mass transit, Uber, Lyft, and more.
Mass Transit Options
Both the Jefferson Transit Authority (JET) and the Regional Transit Authority (RTA) provide transportation to and from the airport.
The Airport-Downtown Express (E2) Bus operated by JET provides service from the airport into New Orleans and takes approximately 50 minutes. For more information on New Orleans-area public transit, visit the Jefferson Transit website.
The Regional Transit Authority's Airport Express (202) Bus runs beween the airport and New Orleans.
Bus schedule information, pick up locations, and route information
List of airport transportation options
By Train
New Orleans is served by Amtrak. The City of New Orleans travels to Memphis and Chicago, while the Crescent goes to Atlanta, Charlotte, Washington, Philadelphia, and New York. The Sunset Limited runs to Houston, San Antonio, El Paso, Tucson, and Los Angeles.
The City of New Orleans, Crescent, and Sunset Limited schedule